Although 2010 went out cold and snowy in Varina, Virginia, 2011 came in like a Spring day. Jan 1 popped up into the mid-50's with intermittent Sun and a little wind throughout the day. Effectively, it was a perfect day to peek in on the beehives, so that's what I did.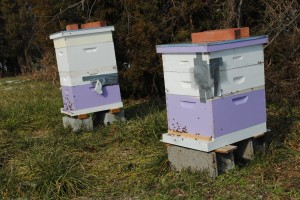 All of the hives looked really good with a few exceptions, which I will explore later in my post. I was surprised by the fact that the majority had not even ventured into the upper supers yet. Most still had a fair amount of honey in their primary brood chamber and the honey was right where it needed to be. The clusters were in various places (they were not all on the east, west, north or south sides ), so nothing to be gleaned there. I did  not break the clusters apart, but was able to find most of them by either removing the top super (or two, in some cases) or by simply looking down into the hive. The latter mechanism worked great on any of the hives that I put a white political sign under a screened bottom board. I could really see the bees against the white material.
The first exception that I found was at the Haupt apiary (only 1 hive here as of right now). This was a really strong hive with a full deep of honey above them. They were still strong (or so it seemed), but they had a ton of dead bees out front. This is not a huge deal, as I have seen dead bees in snow before, but I do not recall seeing this many. I wish I had snapped a picture of them. The one difference between this hive and the rest of my hives is that it basically has no protection from the North or West. It receives direct wind from across a large field. Could it be that this lack of protection is causing more fatalities? I am not so sure. Early on, I subscribed to the school that temperatures do not matter – lack of food matters. Until I leave that school, I will write this observation off to an anomaly. Another delta with this hive is the lack of direct Sun in the middle of the day. I must say that I have not been a fan of this location for some time now, so these doubts may simply be my subconscious building a case to move the location.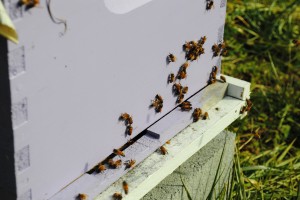 The second and third exceptions occurred at the Mountcastle Apiary. The Albo Hive is clearly suffering. They have a nice amount of honey, but the cluster is pathetic. I am not hopeful that this hive will make it. In truth, this Hive has never been a superior performer, so it is all for the best (I prefer to look at hive losses as 'improving my gene pool'). The Westover Hive was a real anomaly. They were huge. More bees here then anywhere else (as far as I could tell.) The worst part about this was that the cluster had already moved up into the upper deep. This is definitely not normal (for what I am used to), but it may not be bad. A beekeeper to the west of Richmond had bees in his upper deeps in early December and he was not concerned. So, that's one positive spin…
Finally, the Overwintering Nucs are doing great. I have some frames of honey for them (to be used in mid to late-Jan) and will continue to monitor them the most (for both educational and to help them make it through the Winter.)
So, where am I with all of this? The unprotected hive with lots of dead bees is educational. No work involved here – just wait and see. The suffering Albo hive is more of a 'survival of the fittest' scenario. Nothing to be done here but wait and see (I would have to be insane to feed an underperformer and encourage the propagation of these genes!). The Westover Hive is another story. I said that I would not feed my hives this Winter, but this queen has been too daggone strong for me to let perish due to lack of food. So, this is where my only 'work' lies in the coming weeks. They may need some frames of honey or some sugar (Mountain Camp Method), if they eat through their food. The hive felt heavy and I could see full frames of honey on the edges, but I did not break this hive apart (the cluster spanned from the top of the top deep all the way into the bottom deep – it was in the 50's, so they were spread out a bit).
One final note for any new beekeeper reading this. The main thing, in my opinion, about doing Winter inspections is to never get into the thick (cluster) of the bees. Only mess with the edges. Folks will say that breaking the cluster is bad just because you do not want to mess with the dynamics of the cluster. Quite frankly, that's not why I stay clear of the cluster. Within the cluster, near the center, is the Queen. I never put her at ANY risk in the Winter (where the heck can I get a replacement queen!?) So, I never go there. Guess I'm chicken=)