About 3 weeks late, I was finally able to start the first queen rearing program this past weekend. Today (well, yesterday, given the fact that my daughter woke me up and I'm unable to get back to sleep at this ungodly hour!) was Day 5 of my Nicot system.
The Nicot system utilizes a little contraption that you confine the queen in, for a day, so that she can lay eggs in it. You then take her eggs (the system has these little 'cups' that she lays in) and  place them in a 'starter' hive to get going – that's a VERY high level overview of what's going on…
For me, yesterday was Day 5 in the system. I had to create a queenless scenario in one of my hives and install the cell frames. Today, I will need to actually move the egg cups onto the cell frames.
Although I have never tested this out, I have read in a few places that the best queens are 'started' by a queenless hive. Since I plan to 'start' my queens on Wed, I wanted to create a queenless situation on Tuesday and give the bees a day to really get worked up over losing their queen. My current method (I am, by no means, an expert here and continue to try different ways to achieve the best results) is to start with a hive that is on 2 Deeps and is going strong. I locate the queen and place her in the bottom Deep. Once she is secure, I turn the whole hive around and face it backwards. Finally, I place a bottom board on top of the lower deep, facing forward, and put the final Deep in place.
If you can picture this, both of the Deeps remain but they are now separated into two groups of bees. On the bottom, with the entrance facing behind, the queen continues working and building. Up top, with a new entrance facing forward (although a little higher) is the other half of the bees, who now have no access to the queen below. They shortly go into emergency replacement mode.
It is important to have some nurse bees up top, where the queens will be started. But, I will really dump them up there tomorrow. For right now, I simply want to make sure there are two masses of bees (on brood), one without a queen. I face the entrance of the new queenless hive in the same direction as the original entrance, to get most (if not all) of the foragers. I want this mini-hive to be roaring for the eggs they are going to receive a day later.
Finally, I drop my cell frame into the queenless hive. The real goal here is to make it familiar to the bees. It will smell like 'part of their hive' and be easier to accept when I add the eggs tomorrow.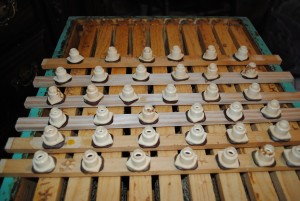 Finally, I have a few hives with the Deep/Deep setup. Their main purpose is to house my queen systems. When I was going around to determine who would hold the queen frames (I am doing several this year, so would like several hives to 'start' and 'finish' my queens), I did find another deadout! Argh! I didn't have time to really get into the hive, but will do so tomorrow. My losses continue to creep up and it is painful, but it's more emotional then anything else. I also came across a few double deeps that are great examples of queens to watch. They were really just barely working on 5 or 6 frames in the whole hive (frames with brood). The hives that I chose had brood on 13+ frames. It's key to understand what 'is roaring' and what is 'whimpering along'…