Today I decided to put some sugar water on my hives to give them a bit of a leg up. I purchased the Beemaster Top  Hive feeder with some Christmas money provided by my family, based on recommendations from the fella at Dadant's down in Southwest Virginia. I had issues with this, but first an observation.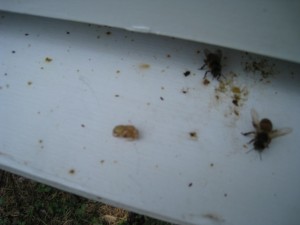 When I approached Hive 2, I again noticed dead, partially formed brood on the landing area of the bottom board. Since this is the second time that I have found this on this particular hive, I posted some questions and this pic on the Beekeeping Forums. The folks there said this was nothing to be concerned about. In fact, one fella said this was a good sign. Brood dies as part of a regular thing (and the rain flushes we have been getting are a logical reason.) My picture demonstrated that I have good, clean bees that are doing their housekeeping right.
So, this was another bit of info to file away for another day!
Now, back to feeding. I combined equal parts (volume) sugar and water in the morning in a pan on the stove. I covered it and let it sit until lunchtime, when I put the food on the hives.
The first problem that I encountered was the megabee pollen substitute that I put on the hive previously. Bees were all over it and it was difficult to get off of the top board. Once I did this, I placed it directly on top of the frames. This was recommended to me by Wade at my beekeeping club. It seemed to work well. The problem was that I now had to get my hive-top feeder on it. With the pollen, it would not fit down on the hive directly. Finally, I went ahead and put my top-board in between the feeder and the hive. I have since determined that this is a problem, so I will have to figure out what to do with this tomorrow.
As a final note, I also went to put down my entrance reducers. Both Wade and Kenny (from the East Richmond Beekeeper's group) advised that I should definitely get an entrance reducer on my hives. Feral hives would be working on my small hives when the Nectar Flow drops (as it should over the next month.) Unfortunately, they did not fit exactly (when I put the hives together, it appears that I should have put the entrance reducer in before putting the two side boards on the bottom board.) I will have to address this tomorrow too.
On Entrance Reducers, an experienced beekeeper mentioned that he has come to get absolutely huge hives from people who want to get them out of barns and trees. A lot of time, they all are coming and going through a hole the size of a quarter! His point was that an entrance reducer is fine all of the time. If there is even the slightest risk of robbing, he says you should put her in! More on this tomorrow.